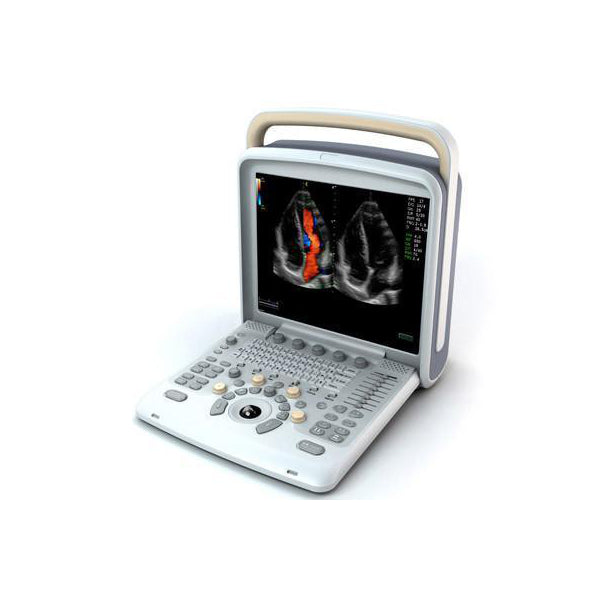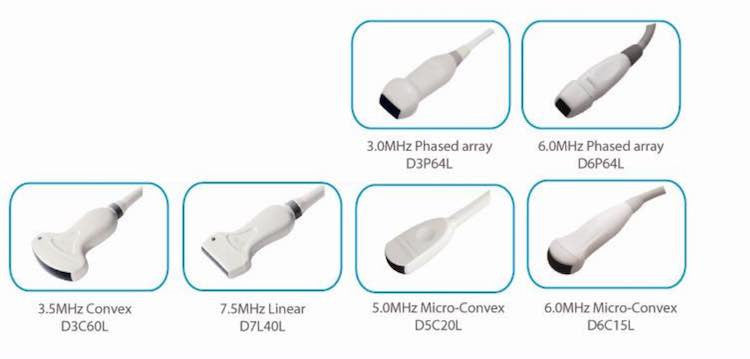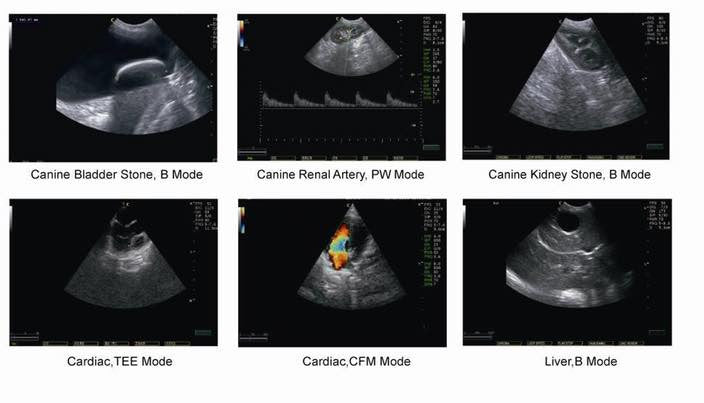 Compact HCU Color Veterinary Scanner
Chison Q6Vet is one of the highest quality compact HCU veterinary color dopplers available. Produces top image quality and its complete functionality can be used for all kinds of diagnosis. It has the same range as SonoScape S8, but Q6 is more affordable without sacrificing performance and quality. Being a lightweight compact machine, the Q6VET has proven to be very convenient for veterinarians when transporting and performing outdoor examinations. Other features include user-friendly operation with minimum soft key entry, ergonomic and modern keyboard design, 15" large LCD display, and double probe connectors. With the Chison Q6VET every scan is made easily and quickly, ensuring amazing results and increased workflow.
New Functions
Speckle Reduction Algorithm (SRA) makes the image much clearer. SRA uses a variety of denoising algorithms to suppress speckle, smooth the B mode images, and make the faint edge more apparant. 
Multiple Compound Imaging (MCI) function increases the lines density producing higher image quality with better contrast and resolution. It will also decrease the sidewall effect of the edge on the tissue and make the edge of the anatomical structure more distinguishable.
IMT Calculation will automatically trace the intima and automatically measure the thickness of the intima.
Multi-Beam former processes one group of an echo signal which can greatly improve the speed of imaging processing and especially enhance CFM frame rate. Conventional color doppler ultrasound systems use single beamformer technology, thus using one beamformer to process one group of echo signal for imaging.
Imaging Modes
B, 2B, 4B, B/M
CFM, B/BC
PW, HPRF, CW
PD, Directional PD
Instant Triplex, Duplex
Trapezoidal
Panoramic
TSS
Chroma B/M/PW/CW
Free-hand 3D (optional)*
Probes
Electronic Convex, Electronic Linear, Electronic Micro-Convex, Phased Array
Wideband (broadband) Multi-frequency
Image Processing Technology
Double Phase Digital Beam Forming(DPDBF)
THI on all probes
Speckle Reduction Algorithm(SRA)
Multiple Compound Imaging(MCI)
i-Image™(optional)
Measurement & Report Packages
Canine: GS, GRL, HD, BD
Feline: HD, BD
Equine: GS
Bovine: BPD, CRL, Trunk Diameter
Ovine: BPD, CRL, Trunk Diameter
Professional Clinical Applications
Cardiac use
Abdominal examination
Use in Vascular and Small parts
Use in reproduction
Standard Configuration
Main unit, 15"LCD, 2 probe connectors, large-capacity memory, 2 USB ports
Video out, TV out,LAN port, VGA out
Two probes by choice:

3.5MHz Convex
7.5MHz Linear array
6.0MHz Micro-convex
3.0MHz Phased Array
6.0MHz Phased Array
5.0MHz TEE probe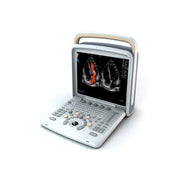 Chison Q6V