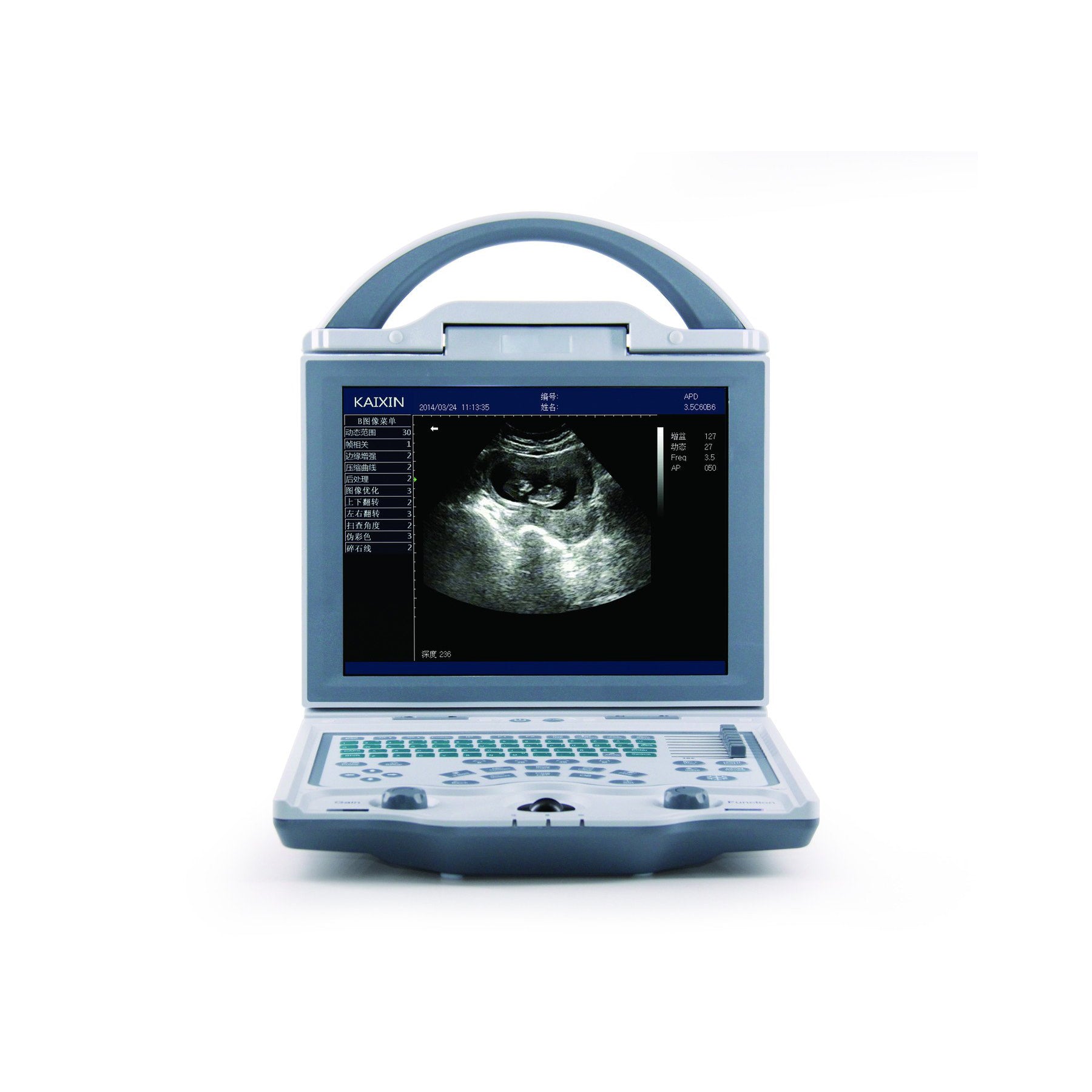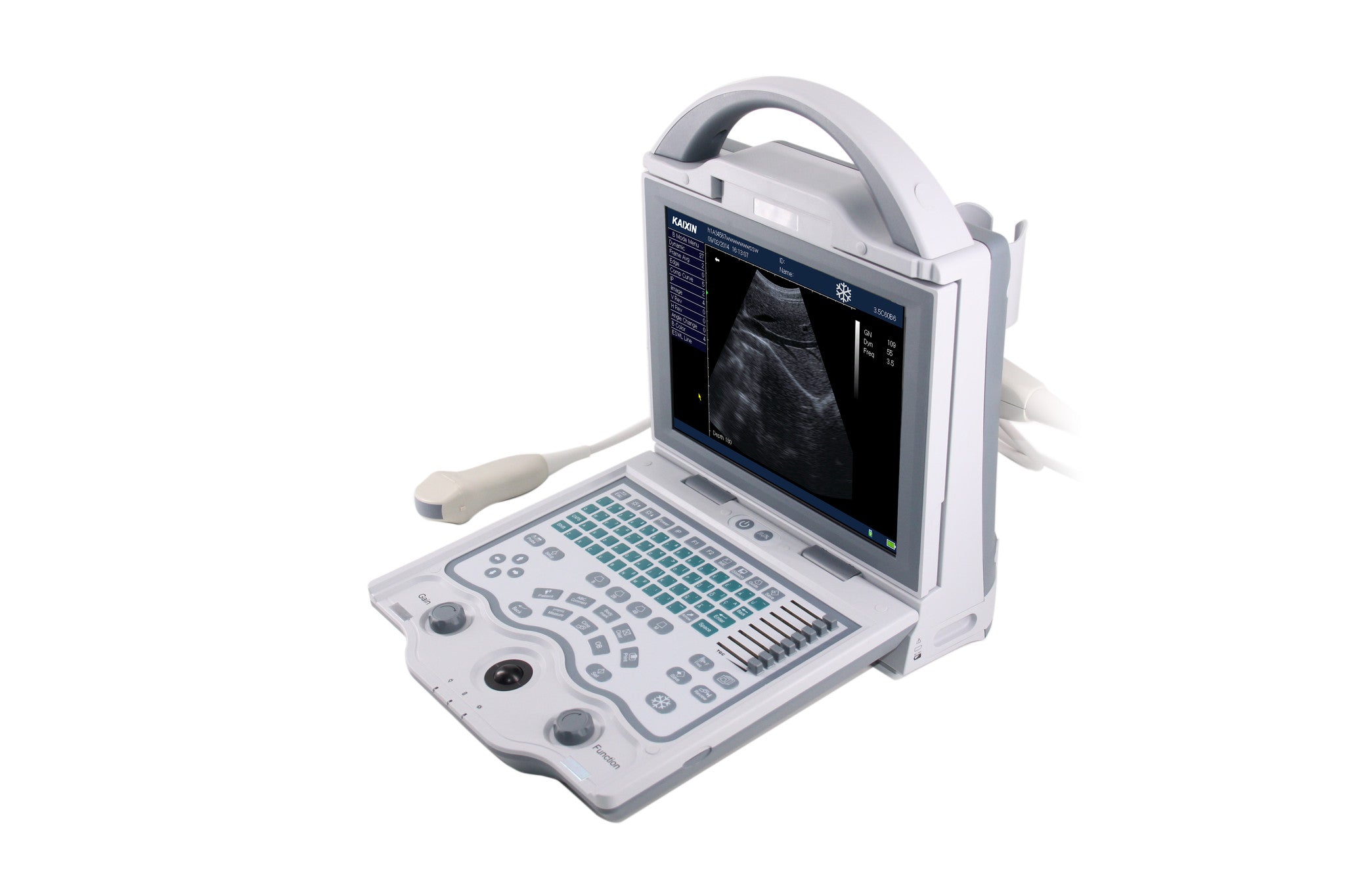 Newest Vet Ultrasound with LED Screen & DICOM
KX5600Vet provides great image quality and is one of the most affordable scanners with an LED screen on the market today. Most comparable machines sell for $4,999 and above. It is lightweight, weighing only 10 lbs, which includes the battery and probe. Other ultrasounds that are similar weigh around 20 lbs. The large 10.4" LED screen provides a clear, full screen image that will ensure accurate and timely diagnosis. The rectal probe lens is 70mm and will produce wide imaging to see big follicles in larger animals. The KX5600V is the only veterinary ultrasound from this line that includes DICOM. 
Features
Lightweight at only 10 lbs, including battery and probe.  Similar ultrasounds are around 20 lbs.

Large 10.4" LED screen, with full screen image.

Two standard probe connectors

Only veterinary ultrasound with standard DICOM in KX models.

(Digital Imaging and Communications in Medicine (

DICOM

) is a standard for handling, storing, printing, and transmitting information in medical imaging. It includes a file format definition and a network communications protocol.)

Battery included, with 4 hours standard battery life.

LED monitor allows outside work in sunlight without a sun shade.
Anti-dust and anti-slalsh keyboard is convenient for outside conditions.
Affordable price, similar models sell for above $4,999.
70mm rectal probe lens and 70mm wide image. Wide image is good for seeing big follicles in large animals. 
Specifications
10.4' high resolution color LED backlight display, with high contrast and wide viewing angle.

Adopt ARM7 embedded control system + FPGA signal processing system + well selected ultrasound hardware system, all make the unit more stable. 

Menu operation system, with different languages according to requirement including Spanish, English, French, Russian and Portuguese

Two probe sockets, auto-identify different optional probe

Body marks; 1. General 2. Bovine  3.Canine  4. Equine 5. Feline 6. Cardio 7. Swine

Total 27 kinds of body marks indicating probe position

Display mode: B, 2B, 4B, B/M, M

Adjustable depth: 10 grades, max depth to 236mm

Gain: 0~127dB

Contrast: 27~90dB

Gray scale: 256

8 steps intelligent TGC

8 kinds pseudo colors

Image storage: 4G hard disk to permanently store about 5000 frames images

Cine loop: 256 frames

Puncture guide function with 2 correctable puncture guiding lines(adjustable angle & position)

the gravel software package with real-time position line measurement

Normal measurement: Distance, circumference, area (trochoid or ellipse), volume, etc.

Cardio measurement: Depth, slope, heart rate, cycle

OB measurement including: Cattle, dogs, horses, cats, goats, camels and sheep and pre-gestational age birth

Other measurement: pig's meat factor measurement

OB report function

One-key store: concise and practical

One-key review: fast, practical image review function

One-key Print

One-key Transfer the current frozen image to net workstation to complete its image text report and print directly

Concise and practical, easy operation. The system includes network workstation to complete data & report management (You don't need to invest more to buy extra ultrasound working station which is really complicated and waste time)

Unique One-key-light keyboard function for black room use

Display brightness adjustable

Dual TV output: PAL/NTSC, can connect video printer when necessary

Power supply: 100-240V~ 1.2-0.6A  frequency: 50-60Hz

Power supply adaptor output: DC12.8V 3.0A

Main unit weight: 4.5kg (without accessories)

Main unit dimension: 256×150×326mm (L×W×H)
Main Basic Configuration

Main unit 

6.5MHz linear rectal probe  

Power supply adaptor 

Li-battery: HYLB-1614 11.1V-4400mAh 48.84Wh   

Reticle     

Two probe sockets

DICOM 3.0
Available Probes
4.0MHz Convex Rectal probe

6.5MHz Micro-Convex Probe for small animals

3.5MHz Linear Probe for eye muscle

3.5MHz Convex Probe

7.5MHz Linear Probe
Other Options
Battery charger

Trolley

Video printer(UP-897MD)

Ethernet Switch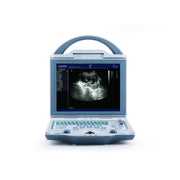 KX5600Vet
Wasn't what I expected
I was disappointed with the picture quality and I did call to get more information but there wasn't any assistance 🤷‍♀️
KX5600V
Service is alright, but still waiting on a reply, however, not impressed with the machine. The machine will not stay powered unless plugged in, should work unplugged after fully charged.