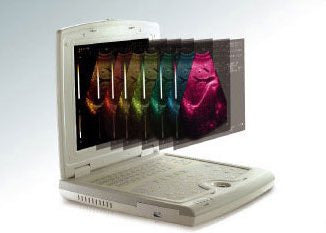 Used for Only 30 Minutes--Demo Model 
Looks new, works perfectly, and comes with a full warranty.
This is the newest and improved KX5000V that was recently released with an improved power board and better performance then the previous model. The 10.4" high resolution color LED monitor produces better image quality than before. Comes with a rectal probe 5.5/6.5/7.5 MHz - ready to use in large animals. The probe can also be exchanged according to your needs. KX5000V is one of best laptop ultrasound machines available and is good for all kinds of animals. Extremely portable, easy to transport, and includes a nice aluminum carrying case. Perfect for bovine and equine reproduction.
Features
10.4" High resolution color LED monitor, high brightness, high contrast, wide visual
Eight pseudo colors (including B/W)
Laptop style, slim design, easy to carry, convenient for examining
Automatically calculate backfat and lean percentage of swine
100 frames permanent storage, 256 frames cine loop
High speed USB port supports high-capacity USB disk and color laser printer
AC and DC power supply
2 high-capacity lithium batteries, works for more than 200 minutes
Single probe socket, automatically identifies the probe, supports several optional probes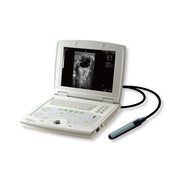 KX5000V Demo
So Far So Good
We love this ultrasound. Our doctors are still learning how to use it. Wish it came with training.
kx 5000 review
I did not liked the connection from the probe to the machine. The image of the uterus was not clear. I retuned and bought a Sonoscape and i relaly like it.
5 star
It works great to verify pregnancy on my boer does.