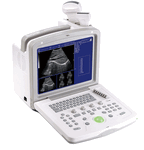 Demo Model--Used Briefly for Demonstrations
The WED-180V is a high quality laptop ultrasound with a 12" LCD color screen. It is the same as model WED-380 but model WED-180V has 32 channels and very good image quality. It has a lower price and weighs less at only 6.1kg.
Features
Advanced image technology like THI (tissue harmonic imaging) makes the image much better
Has pseudo color function with 3 colors
The depth of scanning is up to 240mm with large cine loop memory of 500 frames
USB for image saving to U disk
2 probe connectors
Convex, linear, micro-convex, rectal probes
For use with cat, dog, swine, sheep, and equine
If you are looking for an ultrasound for mixed practice and do not want to spend around $5000, you may consider WED-180 with two probes. Probes for WED-180 also fit to model WED-380V. WED-180V by WELLD is well known as a quality portable ultrasound with a large 12" screen with adjustable contrast and brightness. It can be purchased with any probe of choice. Additional probe is $1000.
Used WED-180V Ultrasound